Reel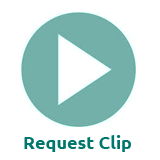 Year Shot:
Video:
Timecode:
Tape Master:
Original Film:
HD:
Hair stylist and make-up artist Eddie Senz demonstrates how to create the perfect face. Using a young model, partially reclined in a chair, with hair wrapped in a towel, Eddie talks about how to optimize a woman's facial features. He pokes and prods the model's eyebrows and forehead as he explains what he will do to her "ideal" face. He talks through the entire procedure as he applies lipstick, eyeliner, eyebrow color, eye shadow, rouge, and powder. He also plucks her eyebrows in a moderately violent way. She sits silent and very still...very much like a live mannequin.
Request Clip Screener
Request a digital copy of this clip to screen.
Add Clip to Submission Batch