Reel
Fashion Parade: Daydreams In Design.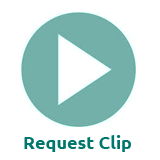 354860_1_1
Yes
New York City, New York
Year Shot:
Video:
Timecode:
Tape Master:
Original Film:
HD:
Image quality is not very good (RGB colors). Fashion Parade: Daydreams In Design. "Inspired by a book about dreams, leading designers show unusual hats during a millinary insitute showing. Hidden longings come to life in the hats milday will wear." Two ladies wearing little black dresses and hats sit and chat. Women model wearing see-through hat. Chiffon (?) hat. Lace hat with small flowers. Large-brimmed hat with flowers, supposedly inspired by the Elysian fields. Two women with smaller hats, one black with netting and one that looks like flowers or leaves. Very large-brimmed hat that looks at first like a hooded cape; the model turns down the huge dark-colored brim so you can see it's a giant hat.
Request Clip Screener
Request a digital copy of this clip to screen.
Add Clip to Submission Batch