Reel
Missile In Grand Central Station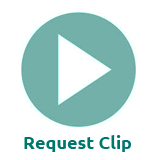 354941_1_1
Yes
New York, New York
Year Shot:
Video:
Timecode:
false
00:23:56 - 00:24:21
Tape Master:
Original Film:
HD:
Visual proplems at start of story The army's huge red-tone missile is put on public display in New York s vast Grand Central Station, looming over hurrying commuters in a breath-taking salute to the International Geo-Physical Year. Establishing shot - Two men with a crowd of people behind them have chains in their hands and it looks like they can be hoisting the rocket in place, MOHS - The United States Army Rocket is in place and their is a large crowd gathering in the background. MS - Several people stand together looking up in total amazement at the rocket. MCUS - The nose cone and down of the rocket. CUS - A mother with her two children, she's bent down so she can explain what their looking at. All three are looking up. MLS - The rocket and in the background the windows of the station.
Request Clip Screener
Request a digital copy of this clip to screen.
Add Clip to Submission Batch