Reel
Fashion Parade: A Salute To Spring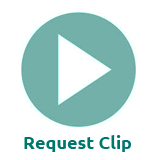 355343_1_1
No
New York, New York
Year Shot:
Video:
Timecode:
Tape Master:
Original Film:
HD:
In New York, a lavish preview of hats for spring. New creations of top designers are featured, exemplifying the 'Upswept Look' and the preferred spectrum of citrus colors. Establishing shot - Model walking down the run-way in a floral print dress and a straw picture hat with large rose buds and stems interweaved on the top of the hat. CUS - This hat is a turban style with flat roses on it and a bunch of grapes on the front. CUS - A multi colored bee hive hat CUS - This looks like a straw hat with a flower on the side. CUS - Picture hat, wide rim, made out of sculptured net with a big bow and a huge flower in the front. CUS - Looks like a bowl type hat with flowers piled up high. CUS - A net shaped like a bowl that goes over the eyes of the model and a satin band that ties down the side into a bow.
Request Clip Screener
Request a digital copy of this clip to screen.
Add Clip to Submission Batch